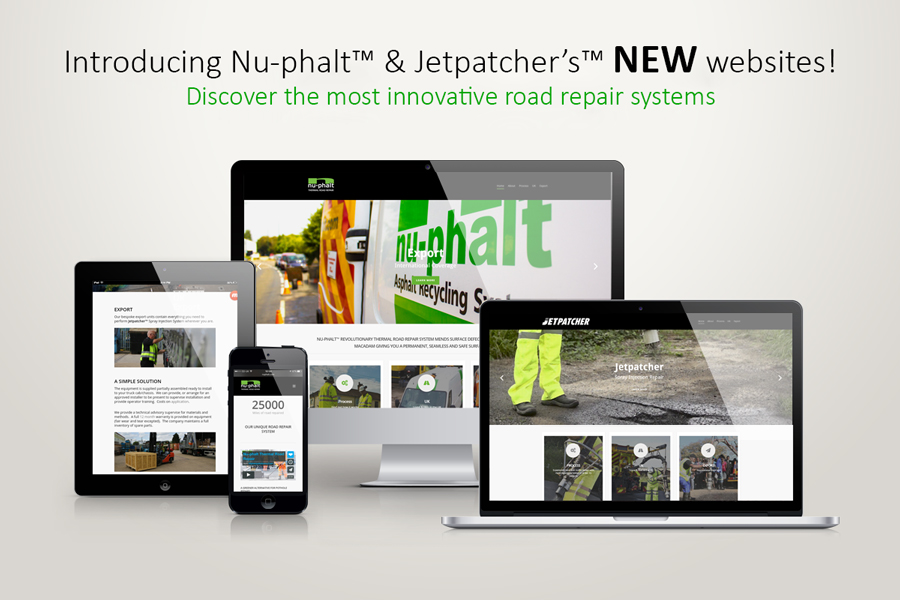 Nu-phalt™ Thermal Repair and Jetpatcher™ Spray Injection are
 delighted to officially announce the launch of our newly designed websites!
Our goals were to provide visitors with easier access to information, easier ways to collaborate and enable us to showcase our upcoming news and projects. Take a look around and let us know what you think by contacting us here.
At Nu-phalt™, we think of ourselves as 'the one stop solution for road repair" and work tirelessly to develop our systems to be innovative and efficient.
Our gleaming new website will help tell showcase our services in an engaging way by guiding visitors through the different areas of our businesses.
In addition, we want our new website to encourage local authorities, main contractors, heads of highways and other asset managers to look seriously at our solutions for road repair whether it be an urban or rural application.
So why relaunch our website now?
Following our redesign, we are able to engage with our ever-growing audience in new and better ways – including through greater social media integration and mobile compatibility.
This will create a higher quality user experience, regardless of what device you are using to access the website.
Another significant boost for us is that our new upgrades have provided a consistent layout, structure and navigation flow.
All this is ultimately part of the Nu-phalt™ vision 'to be the leaders in Road Repair and Civil engineering and this is now reflected by our new website.
We hope you enjoy the new website and all the exciting new features it offers.
Happy browsing!!!