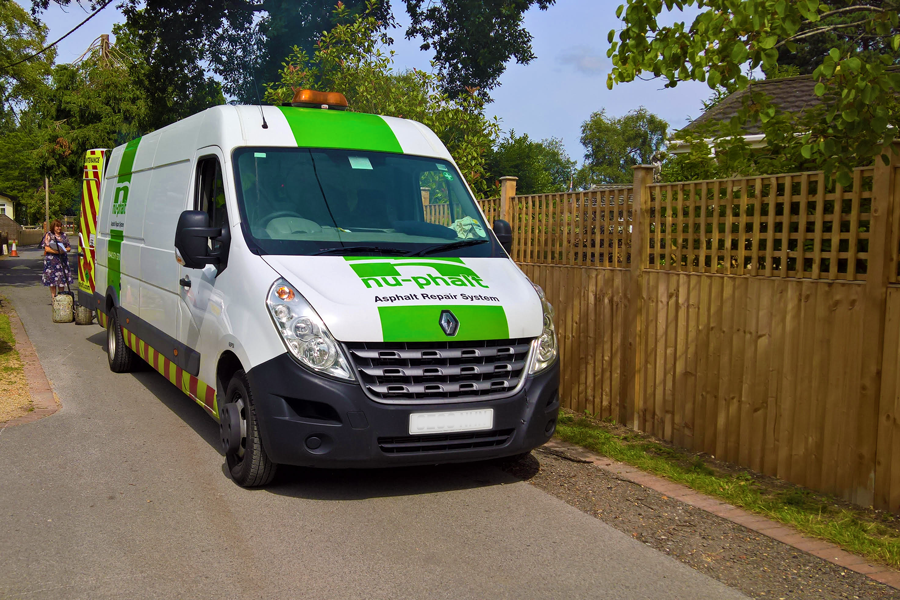 Nu-phalt™ have delivered a scheme of  trenches for a new electrical infrastructure at Warfield Park.
Warfield Park is a Park Home estate, (more commonly known as mobile homes) with some 509 Homes, making it one of the largest in the country, set in 90 acres of woodland with a further 80 acres of woodland and farmland assets. It is nearly unique in the industry, for having generously apportioned gardens and a twisting road network, more akin to a rural village, than the common image of a mobile home site.
Nestled between Ascot and Bracknell, Warfield Park has existed in its current form since 1947 when planning was first granted for 22 caravans. Before that it was a private estate, with a Georgian Manor house set in some 300 acres including ornamental gardens, farmland and woodland. Since then, it's gone from strength to strength. With 479 Residential Park Homes on the main Warfield Park site and a further 30 on its secondary site of Harvest Lea let under 6 month Assured Shorthold Tenancy.
In the last few years it has been decided, by the Company's Board that the existing overhead electric network has become increasingly difficult to maintain due to its age and an inability to find companies, large or small willing or able to maintain it in the long term. Combined with Warfield's woodland setting and increasingly unpredictable severe weather it is also becoming increasingly exposed to potential storm damage. It has therefore been decided to implement a 10 year improvement programme to instate a new underground electric network and remove the existing overheads, starting with key strategic sections that are most likely to suffer storm damage.
In order to lay the new electrical infrastructure this has required a substantial amount of trenching works to be carried out. Whilst every effort was made to avoid excavating in the road system, this was ultimately an inevitability. It was therefore a key requirement to reinstate the roadway to a high standard, once the cables had been laid and trenches backfilled. Having used Nu-Phalt™ for some pothole repairs previously they were the obvious choice.
Facts on the project
Over 1,000 heat cycles / m2 of Nu-phalt™ Thermal Patching undertaken
Works undertaken in two phases – 700+ heat cycles / m2 undertaken in March 2016 and 300+ heat cycles / m2 undertaken in July / August 2016
Works undertaken in 30 shifts, by 2 experienced Nu-phalt™ Thermal Operatives
Only 12,500 kgs / 12.5 tonne of bitmac used to complete the works using our Nu-phalt™ Thermal Recycling Process
Over 49,000 kg of CO2 saved using Nu-phalt™ over Conventional Patching methods
Works involved attending to a selection of different utility trenches which ranged from 80m+ x 1m in size to 3m x 1m in size. Before photos attached above.
The Benefits of using Nu-phalt™
One of the most important objectives was to minimise disruption to Warfield Park residents during normal working hours. As the majority of Warfield's residents are 50 plus with the majority being of retirement age this means many are around for most of the day. With the system Nu-phalt™ has developed, the footprint of the work area is as small as it can be, Nu-phalt™ were able to keep road closures to an absolute minimum.
Because of the method of laying/reinstating the asphalt, and heating not just the new but the old as well, it creates a very neat smooth finish. It matches in with the original road surface and is almost indistinguishable after a few months.
The seamless finish has also solved the problems which we've had in the past, from conventional asphalt repairs, with water seeping into the joints and freezing during the winter, causing more damage to the road and needing to be redone in the spring.
Another key benefit was Nu-phalt's™ willingness to continue works over the weekend which has allowed us to finish the remedial works inside of 14 days from start date as opposed to a likely 3 weeks' worth of disruption.
James Sumner, Business Operations Coordinator, Warfield Park said
"It's every bit what was promised and then some. A superbly simple and effective solution."
"An incredibly knowledgeable and conscientious team, one of the easiest companies to work with. Kept informed at all times by staff working from Head Office and the operatives carrying out the work on the Park."
For more information on Nu-phalts™ services please contact us on Enquiries@nuphalt.com