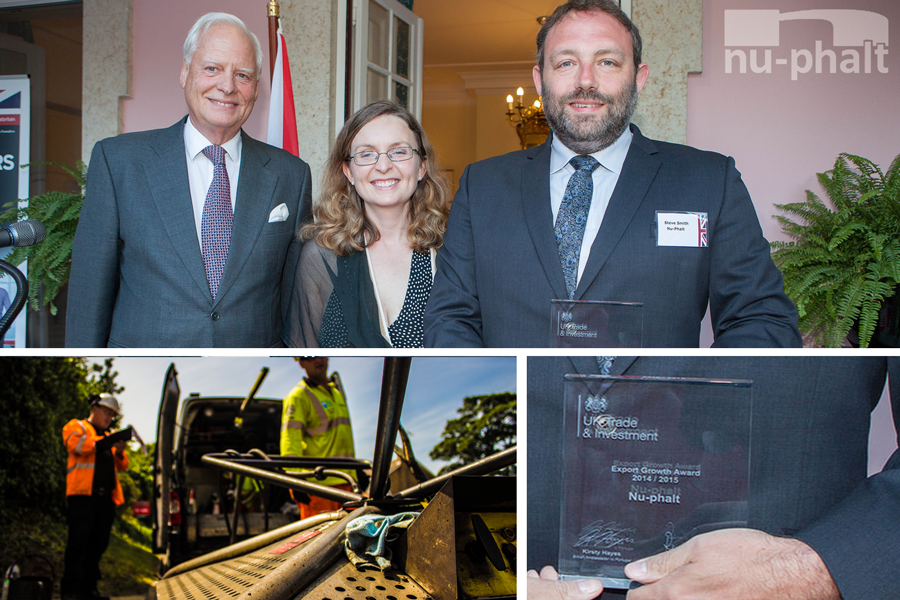 The award was presented to Nu-Phalt by Her Majesty's Ambassador to the Portuguese Republic, Mrs Kirsty Hayes and Dominic Jermey, the CEO of the UKTI team.
The UKTI organise annual business award events aimed at those Portuguese companies who choose the UK market as a destination of their international investment projects. It also celebrates with those UK companies who have achieved success in the Portuguese market, further enhancing the already strong trade and investment relations between Portugal and the UK, which is the heart of the awards.
Paulo Coimbra, Trade & Investment Manager, UKTI – British Embassy Lisbon commented:
"It was a pleasure to welcome Nu-Phalt among the 2014-15 awardees at the UKTI Lisbon annual award ceremony. This is aimed at the British companies gaining business in Portugal and Portuguese investors in the UK who acknowledge our involvement in their success."We trust Nu-Phalt was also pleased to receive the award from HM Ambassador Kirsty Hayes and UKTI's Managing Director Strategic Investment and Accounts, Michael Boyd."
Steve Smith, Nu-Phalt MD received the award said:
"Nu-Phalt are delighted to receive this award, it gives me a great sense of achievement to be part of a UK business who is able to deliver and export a system into Europe. We have always aimed to grow into European and International markets. This award helps symbolise our achievements."
Nu-Phalt are based in Rugby, UK provide a leading road repair system to the UK Road Network. Over the last 10 years the Nu-Phalt group have developed innovative proven systems to help maintain and repair our roads, along with a contracting arm to provide services into local authorities and high speed infrastructures.
Paulo added:
"We provided Nu-Phalt with support under OMIS by identifying potential Portuguese partners, customers, and other stakeholders. This meant they could get a better understanding of the market, and relevant potential for business. We kept in touch as they undertook visits to the market looking forward to their first sale. This was considered crucial by all parties involved to get road contractors interested in their machinery. Once they see it operating and realise all the advantages there will be great potential for a substantial sales increase.
"We are really pleased with the relationship developed with Nu-Phalt and expect to share further successes in Portugal in the years to come."